Central Oregon Golf
Golf in Central Oregon is legendary. The high desert has an abundance of beautiful golf courses. Prineville's Meadow Lakes Golf course is an active municipal golf course that has hosted two Oregon Amateur State Championships. Many other Central Oregon golf destinations are within an hour of Prineville.
Meadow Lakes Golf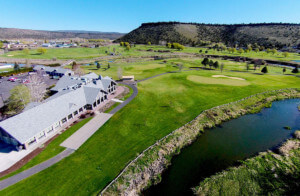 Set amidst sparkling blue ponds, rock-rimmed buttes and green meadows, Meadow Lakes Golf Course in Prineville features a championship course, a beautiful clubhouse, and a friendly staff eager to help make your round of golf an extraordinary experience. Meadow Lakes has been featured in the USA Golf Journal and is one of the first-ever recipients of Golf Digest's National Environmental Leaders Award. Recently, the Bend Bulletin called Meadow Lakes Golf Course "one of Central Oregon's best golf values."
Meadow Lakes is an active municipal golf course that has hosted two Oregon Amateur State Championships, including the 1998 Oregon Mid-Amateur Championship. The challenging and enjoyable layout, designed by Bill Robinson, keeps the golfers coming back. Additionally, the Prineville Golf Club is semi-private 9 hole golf course in Prineville.
Brasada Canyons Golf Club
Designed by native Oregonian Peter Jacobsen and Jim Hardy, Brasada Canyons golf course is undeniably one of the most beautiful and enjoyable golf courses. While the course is known as the best 18 views in Central Oregon, Brasada Canyons is also heralded for its privacy, as play is reserved for members and resort guests, and no two holes run parallel. Brasada Canyons is open year round. In winter, it is very possible to ski Mt. Bachelor in the morning and play eighteen holes in the afternoon.
Eagle Crest Resort
Eagle Crest Resort in Redmond has two championship golf courses, The Ridge Course and The Resort Courses; a tough 18-hole, par-63 Challenge Course; and their popular 18-hole putting course. Four sets of tees on each course allow the more experienced golfers plenty of challenge, and the less experienced equally enjoyable rounds. Golf Digest's Best Places to Play 2008/2009.
Crooked River Ranch Golf Course
The Crooked River Ranch Golf Course is home to "the most spectacular golf hole in Oregon," the No. 5 Canyon hole. There you will catch a view of the beautiful Crooked River Canyon and the river from hundreds of feet above. The ultimate challenge: hit the tee shot across the corner of the canyon wall to the green. At a mere 221 yards to cut the corner, the fear of losing a ball and strokes to par makes this hole a challenge. The 18 hole par 71 gem is considered player friendly with teeth.
 Pronghorn Golf Club
Designed by master golfer Jack Nicklaus, Pronghorn's signature golf course in Bend, Oregon, plays firm and fast and accommodates golfers of every skill level. Ancient lava rock ridges and outcroppings intertwine with natural landscaping accenting magnificent views of the Cascade Mountain range. This 7,379-yard, par-72, 18-hole course provides a minimalist experience with an emphasis on the golf game itself—combining strategy with playability, beautiful transitions and true putting surfaces.