Smith Rock State Park stands alone as a great active destination. One can feel the power of the rocks as they tower over the landscape. Smith Rock State Park encompasses 651 acres on the Oregon high desert plateau, which hovers around 3000 feet in elevation. The park and campground are open year-round.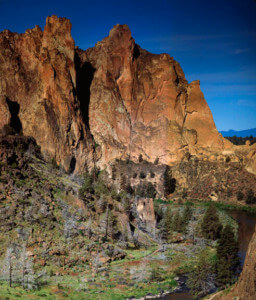 A $5 day use permit or a current state park camp receipt is needed for each vehicle. A yearly permit is available for $30. Day Use permits or available from the self service pay stations. Dogs are permitted on a leash.
Hiking trails offer spectacular views of the surrounding area. You can spend 30 minutes walking along the river or a full day making a loop on trail systems that extend outside of the park to Deschutes Land Trust, USFS and BLM land.
The major rock faces are composed of welded tuff (compressed volcanic ash) reaching a height of up to 550 feet. The picnic and campground areas sit on top of the rimrock, which is made up of columnar basalt. There are over 1800 climbing routes in and around the park ranging from some of the best sport climbs in the world to… "Why would anyone want to climb that pile of choss".
Outdoor enthusiasts climb, hike, mountain bike, trail run and horseback ride year-round, but summer temperatures can reach 100+ degrees (f), and in the dead of winter the thermometer stays close to the freezing mark (32f) during the day. Spring and fall are the best months for outdoor activities.