Crooked River Roundup
Nestled in the high desert among sagebrush, juniper, and miles of working ranches, the Crooked River Roundup is the one of the oldest family entertainment events in Oregon. Officially started in 1966 — though locals will tell you there was plenty of racing here before then — the horse races have grown to become one of Central Oregon's most popular summer events.
Prineville's Biggest Party of the Year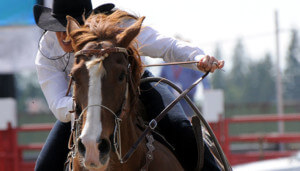 Thousands of people gather to enjoy the races, PRCA bull and bronco riding, roping, steer wrestling, and barrel racing. And beer … Plenty of beer. Run almost entirely by volunteers, the horse races rely on as many as 100 unpaid "employees" who take wagers at the betting window, water the racetrack, serve beer and do just about everything else in between. The Crooked River Roundup continues to demonstrate the community's ability to come together and celebrate its history and citizens.
Website: Crooked River Roundup